Per UDISE Report, the Gross Enrolment ratio is at 51.4% at higher secondary level compared to primary education at 89.7%. The overall dropout rates in India stand at a staggering 17% overall average with some of the states even reporting 20-30% as their respective dropout rates. Most of these dropouts happen at the juncture between secondary school and higher secondary school. While there are many reasons that are attributed as the causes for students dropping out of the education system at these levels, some of the major ones include financial constraints, domestic needs, early marriages, and a need to be a financial provider for the family.

Amongst this backdrop, Certificate Program in Information Technology was launched in Sep 2022. The program is a joint initiative of Indian Institute of Information Technology (IIIT) Dharwad, Mindtree Foundation and Edunet Foundation. The program will focus on providing a holistic 18-month long training program in basic Information Technology skills towards enabling, empowering, and accelerating youth who have dropped out of the formal educational ecosystem, after completing their Class X, to provide them opportunities to curate their careers in technology.
The program is a structured and exhaustive engagement for the eligible students with a strong focus on helping them develop the relevant digital technology skills through an experiential learning methodology. The program is delivered over 18 months and is divided into two phases as shown below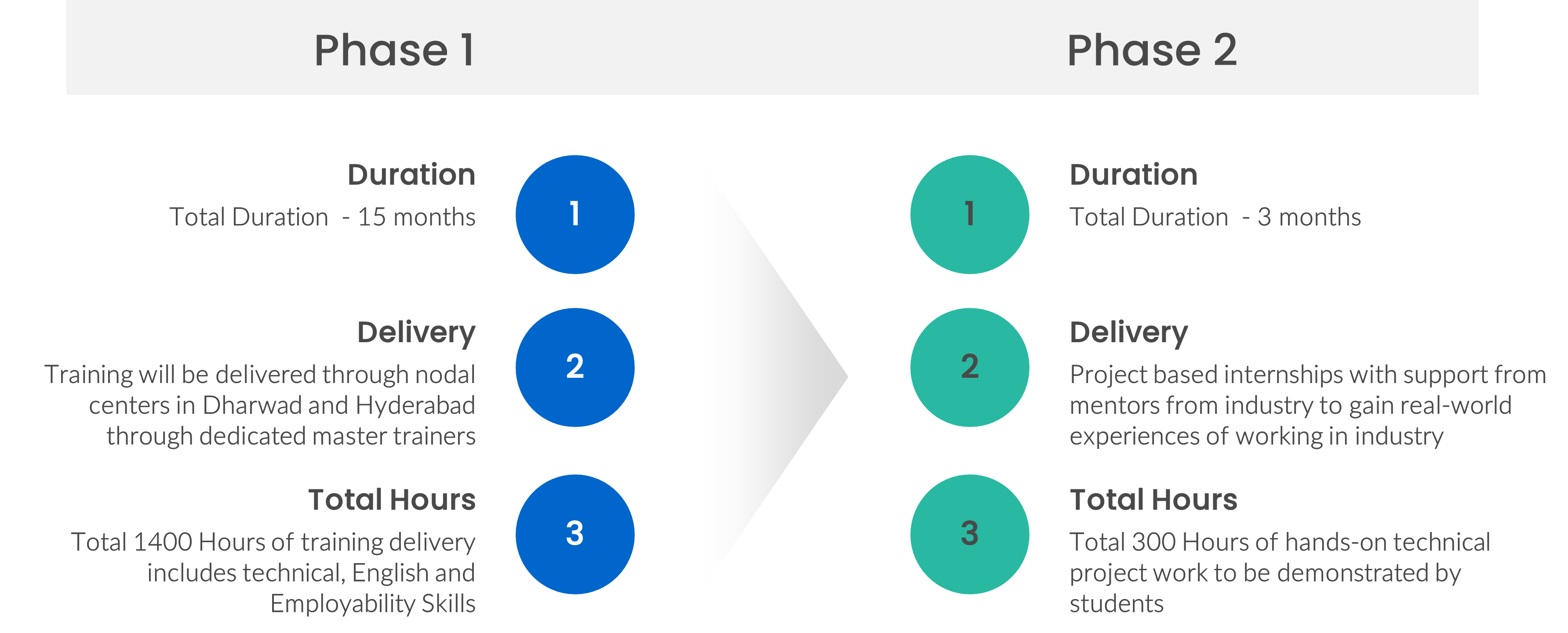 The program will enable the students to
Build strong foundational and industry relevant skills in the respective technology vertical through hands-on experiences
Learn complimentary skills through self-paced learning opportunities and modular engagements like bootcamps.
Reinforce their learning through mandatory project work aimed at building solutions for real-world cases under mentorship of master trainers/industry experts.
Impart overall employability and provide opportunities for internships/ jobs
Participants will have to meet the following eligibility criteria to register for the program
Participant should have passed Class X in 2020 or later
Participant has dropped out from formal education
Participant is not enrolled into any other full time / part-time certification course or educational program
Participant can devote 18 months to go through classroom training
Participant is willing to pursue a career in IT sector and is committed to migrate to pursue the job opportunity
Participant has basic linguistic skills to read / write in English and local regional language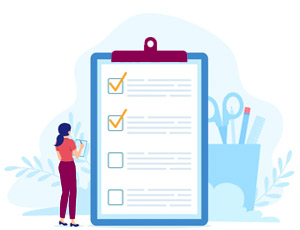 Opportunity to re-enter the formal education
Program will provide opportunities to eligible and interested participants to continue their education which leads to meaningful job opportunities. Participants will be certified by IIIT Dharwad

Financial aid to support participants
Student participants in program will be supported with a monthly financial aid of INR 4,000 for 15 months subject to their active participation in program and stipend of INR 10,000 for last 3 months in the program during internships.

Strong Collaborative ecosystem to accelerate entry to workforce
With the partnership of premier academic institute like IIIT Dharwad and Industry leader like Mindtree, the program provides a thriving ecosystem to students to learn relevant technologies, collaborate with academic and industry experts leading to enhanced employability

Hands-on Experiential Learning Models
Program will focus on building hands-on experiential skills for students in industry relevant technology areas. Participants will receive mentoring / counselling from industry experts along with project-based internship for 3 months to gain experiences of working in collaborative environments within Industry
This program consists of core training content of around 1,400 hours to be delivered in instructor led sessions over a course of 15 months followed by 300 hours of project-based internships. The program initially focuses on building foundational Technical and English skills for participants, post which the students can select either of the two specializations offered in the program – Full Stack Web Development or IT Enabled services. The students will be taught employability skills towards end of classroom training to prepare them for project-based internships and jobs. The program is broken into discrete modules, where each module has its own objectives and learning outcomes. Below is the broad outline of modules covered in the program.
Course Modules
Duration
Months
English Language Skills
200 Hours
15 Months
Foundation Technical Skills
400 Hours
Specialization 1: Full Stack Web Development
Specialization 2: IT Enabled Services
700 Hours
Employability Skills
100 Hours
Project Based Internships
300 Hours
3 Months
Total
1700 Hours
18 months
Note: Students can select either of the two specializations